Woohoo! Summer is just around the corner and that means it's time to chill out outside which is my favorite! I love outdoor decorating, dining and entertaining and I'm thrilled to be working with World Market to host a giveaway and share some ideas of how even a small balcony, patio or yard can easily be transformed into an outdoor living-room, dining room or den.
I love a good al fresco meal or snack.  Bringing food outdoors feels like a special treat and automatically makes me feel like I'm on vacation. Here are a few tips for outdoor dining decor:
1. Have a separate set of (non-glass or ceramic) dishes for outdoor dining. I can't tell you how many glasses and dishes I've broken trying to carry them outside.  Don't feel like everything has to match though! Feel free to mix and match especially with the drinking glasses. I love the way it looks to have contrasting colors.
2. Use cloth linens instead of paper linens. They're less likely to blow away in the breeze. (Don't you love World Market's new Fiji print?? It's wonderfully jungalicious!)
3.) Candlelight always makes everything feel very special. I use these LED candles all the time for photoshoots, but IRL too. They glow and flicker like real candles and they even feel waxy, but they don't burn, blow out or make waxy messes.  I find them especially handy in hanging lanterns or other precarious installations (like on rugs), or on places like beaches where burning candles aren't allowed.
1. Use an outdoor rug to help you define your 'living room' area. 
2. Include plenty of small tables and trays so you (and guests!) have accessible places to put food and drinks.
3. Make sure furniture pieces are light enough to be mobile and flexible. It's nice when you can easily reconfigure your outdoor space to fit the style and the size of gathering.
Creating an outdoor 'den' for me means creating a place to lounge and chill that's comfy and relaxing.
1. Scatter around a mix of solid and patterned pillows to lounge on.
2. Then hang a gauze canopy to add a healthy dose of romance (the kiddos will love it too).
3. Use lanterns (table, floor and hanging lanterns) to create an intimate ambiance. Hang them on the walls, or from trees. Place them on side tables and scattered around the 'den.' If you're feeling jungalicious, you can even use them as plant holders ;)
Here's a cute little video that World Market created that is all about mixing and matching. Here's how I break it down:
1. Pick a dominant color and one or two accent colors. The colors tie the patterns together and make the space look cohesive.
2. Mix graphic pillows (like the dragonfly) with patterns (like the botanical prints).
3.Toss in some solids to balance everything out.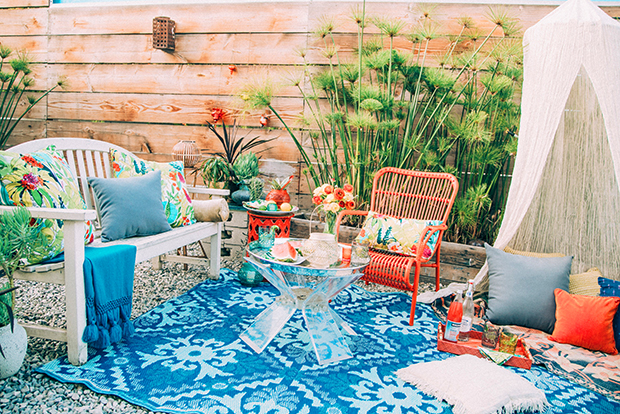 And now for the giveaway! I'm super excited to host the giveaway because I LOVE going to World Market for outdoor entertaining–I can grab yummy drinks and snacks while I'm buying a boho-licious outdoor rug! Win, win! So here goes, a chance to win a $200 gift card for all of your outdoor needs :)
*Photography by Danae Horst, Styling by J. Blakeney
* This post was created in partnership with World Market as a part of the #WorldMarketLove4Outdoors Campaign
*Giveaway has $200 USD total value. Winner will be contacted by email once giveaway closes on 5/17 and announced at the bottom of this post.