Sick of the tired old black and orange color combos and plastic jack-o-lanterns, this year for Halloween I wanted to create an intriguing, textured tablescape that was equal parts creepy and elegant. I still yearned for the hair-raising details and overall dark vibe, but I kinda wanted to leave off the cheese factor…and, of course, I hoped to achieve this all without breaking the bank. So, without having a super clear idea of what I was looking for exactly, I headed to my local Savers thrift shop to see what I could unearth…

And I scored pretty hard…From black plates, glass jars and styrofoam heads, to gold candles, candlesticks, glassware and a whole collection of porcelain cats, I knew I was on my way to something intriguing. Savers was the perfect Halloween one-stop-shop because they carry new and old Halloween stuff so it's easy to mix it up to put together something unique.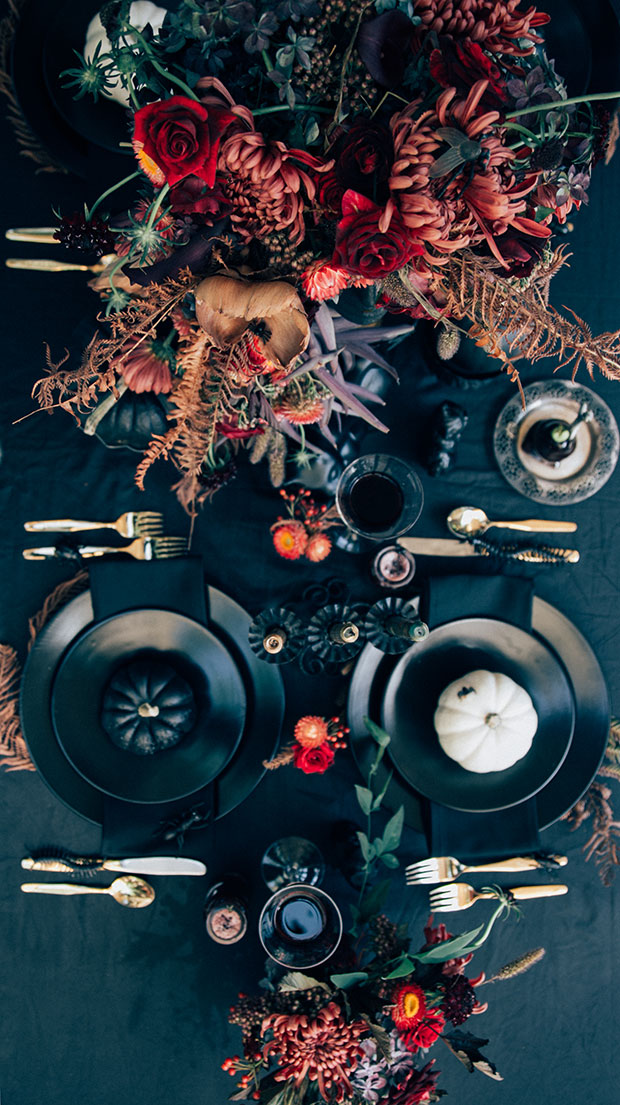 Ultimately,  most of everything on this table (including the bed-skirt we're using as a table-cloth) was found at Savers and purchased all together for less than $100….
What's so great about using thrifted items for a tablescape is that I feel totally cool about spray painting over stuff–and in this way it's easy to make things look cohesive…so our thrifted cats got a coat of matte black spray paint…

and so did the pumpkins..

We found bags of old toy bugs used them in our floral arrangements…eeeiiiieewww. 
Those little glass bottles turned into jars for our 'poisonous' cocktail…(come back to the blog tomorrow for the recipe…)
And that styrofoam head became our severed head/medusa floral centerpiece. Pretty genius, I know :P

And let us not forget about our candy pears (recipe coming mañana for those too…)  

At the end of the day, I couldn't be happier with my spooky-chic results! #ThriftOrTreat yo!
Florals by Kelly Cuadra of Viva Voce
Crafting by Danae Horst
Tablescape Photography by Dabito
Before & After Photography by Danae Horst
Creative Direction by Justina Blakeney
*This post was brought to you in partnership with Savers, seriously though–the best place to shop for Halloween.