The first time I shared this space over on IG and called it 'small' I got some emoji chuckles in the comments. "Yes!" I insisted! "This space used to be our garage, and the entire thing is less than 300 square ft!" What you're looking at above, just a few short months ago, looked like this:
Crazy huh? We employed a few tricks to make this space look and feel bigger than it actually is, tricks that I'm excited to share with you all today!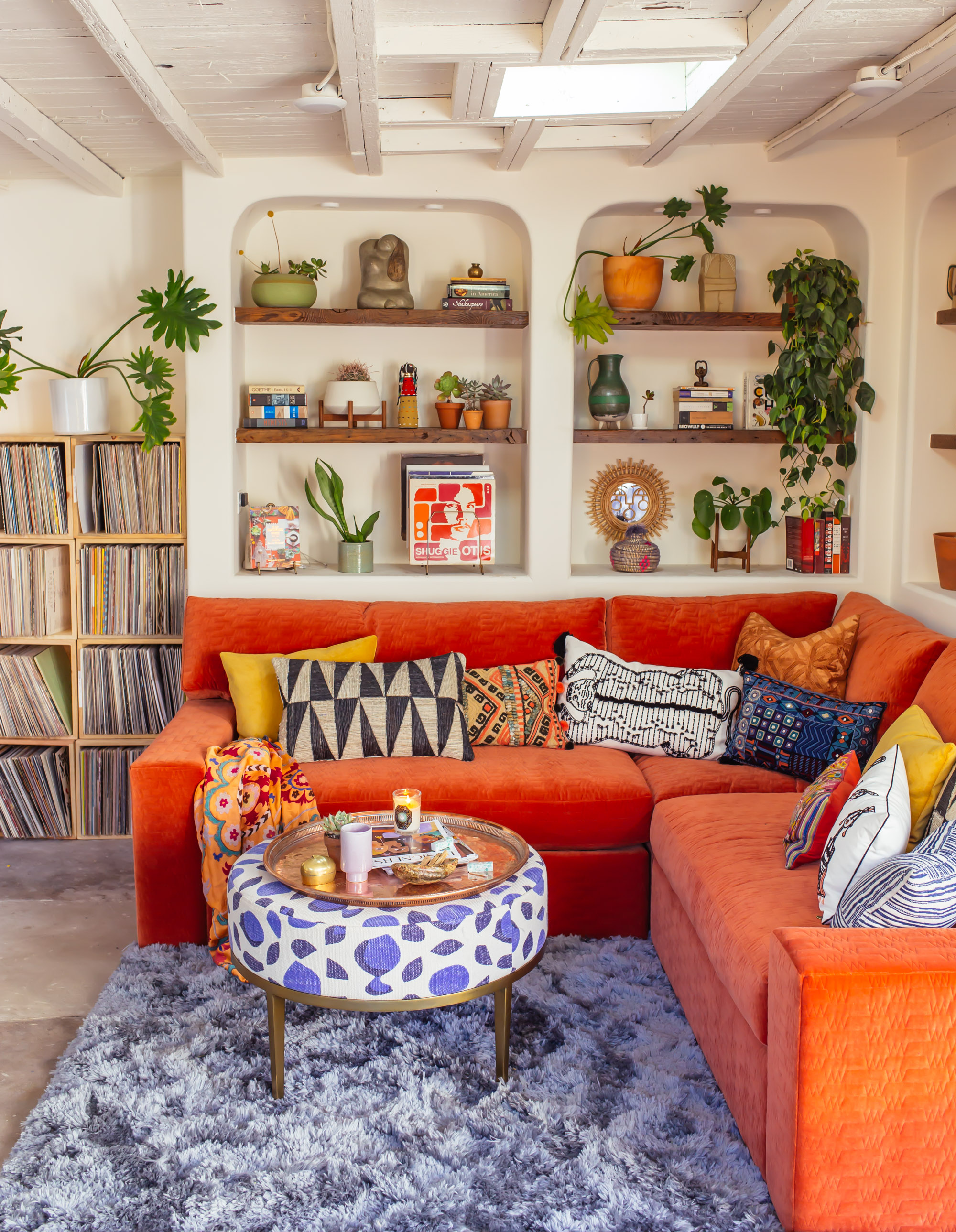 1. Paint color
Y'all know how I feel about color, and there was a very, very big part of me (about up to my neck) that wanted to go bold with the paint color in here, but we ended up going with Spun Cotton by Behr and I'm so glad we did. The color feel a bit old-world-y and really soft and warm, it plays nicely with the other brights that we've got going on in here, and, yes it does make the room feel bigger. The ceilings in here are so low that I can easily touch them If I reach my arm up, and the Spun Cotton color makes the ceilings feel much more open.
2. Skylight
The paint color is not the only thing on the ceiling that makes this room feel bigger. We put a small skylight in, and WOW did that make a big difference. Just a small peek to the sky and it completely opens up the space, makes the ceilings feel taller and makes the whole space brighter.
3. Storage behind the sofa
One of the big difficulties with this space was figuring out how to house all the 'stuff' our garage housed before, but also create space for entertaining (especially since this was now, by far, the largest room 'in' our house. One way we solved this was to create these built-in bookcases behind the sofa. This helped to create some architectural interest in the space as well.
4. Sofa that feels big, but has a small footprint
One of the things I dislike about our actual living room is that if more than four people are hanging out in there, there are not enough places to sit. On of my goals for this space was to be able to host more gatherings. We love to play music and we wanted a place where we could all sit around and jam, or play board games, or have a girls night or whatever — but we wanted a sofa that could fit more folks. I also loved that the arms are nice and wide so for parties people could sit on the arms, too.
I reached out to my friends at Jonathan Louis to see about a sectional and I fell in love with their Bingham sectional sofa. The sofa comes in a myriad of configurations, and they custom made this sectional for me using quilted fabric from my collection with Valdese Weavers. (While they don't carry the quilted fabrics in their collection, they do have dozens of fabric options, including some gorgeous velvets. Check their list of dealers if you're looking to replicate the look!)
The sofa is deep and plushy, super comfortable and as you can see: takes well to naps (as lovingly demonstrated by my Pops in the above photo).  Also, even though the sofa looks huge, it's actually only 100″ X 100″ — which is actually pretty small as sectional sofas go. Having the sectional in here gives the illusion of the space being bigger than it actually is.
5. Round Ottoman/coffee table
Using a round coffee table helps the flow in the space and helps to balance out the square shapes created by the Caspia rug (from my collection with Loloi) and the Bingham sofa. Also, using a smaller coffee table situation (that can double as an ottoman or extra seating if push comes to shove) helps save space. As a general rule, when thinking about space planning and proportion, when you think of a smaller space, thing about introducing smaller furniture pieces, and the opposite is also true.
Here are all the sources if you want to shop the post!