This post was sponsored by Wayfair.
I spend about as much time at Jungalow HQ as I do at home. I spend *more* awake hours at the studio, actually–crazy when I think about it. Because of that it's so important to me that my team and I work in a space that's comfortable, practical and inspiring.
So as our lease on our former space was coming up I knew it was time to take a leap and get a larger space. After keeping an eye open in my neighborhood for about six months I came up on a warehouse that was nearly twice the size of the other studio, with great bones (and just a block from my home!) It was in pretty horrible shape so the rent was affordable by L.A. standards. ($2 a square ft.) which meant it was almost twice the size of our last place but only an additional $500 per month. (You can see before photos here.)
I knew I wanted the new studio to have a bathroom and a kitchen, good natural light and pretty features for shoots (like windows and good ceilings) and this place seemed to check all those boxes, but it would need a big investment up front to turn it into my dream studio. After thinking about it for about 30 seconds I jumped at the chance. With my personality, I'd rather pour a lot of money in upfront and then have a chill monthly overhead instead of stressing every month about rent.
The day after getting the keys I reached out to Wayfair to see if they would be game to work on this rehab with me. I wanted to work with Wayfair specifically because they carry most of what we would need for both remodel and decor. They have a whole section dedicated to home improvement as well. From vanities and tile, to appliances and light fixtures, with their help I would be able to build a quality kitchen, redo the bathroom, and get first-rate desks, office chairs, and everything else I need to create a beautiful and practical space for us to work in for (at least) the next four years.
So after rehabbing the floors, walls, ceilings, electric, plumbing and painting and installing air conditioning (about $25K worth of work (and sweat) all in including the HVAC if you're curious), we divided up the space into a few different sections. In the above pic you can see the front door. As you walk in, the lounge area is on your right. This is also one of the walls we'll be using as a photo area to shoot stuff for our online shop as well as content for the blog. My desk area is behind the rattan furniture (part of my Lucia modular seating from my line with Selamat) where the Aja wallpaper is. I LOVE working in here. It gives me so much life.
In our last space we shared a bathroom with a bunch of other tenants so it's VERY nice to have our own bathroom. It was pretty nasty when we moved in — so we completely gutted it, wallpapered it (Fez gold by me) and installed a space-saving vanity. Now the bathroom glows. (We got our 'Whatever Just Wash Your Hands sign from Etsy).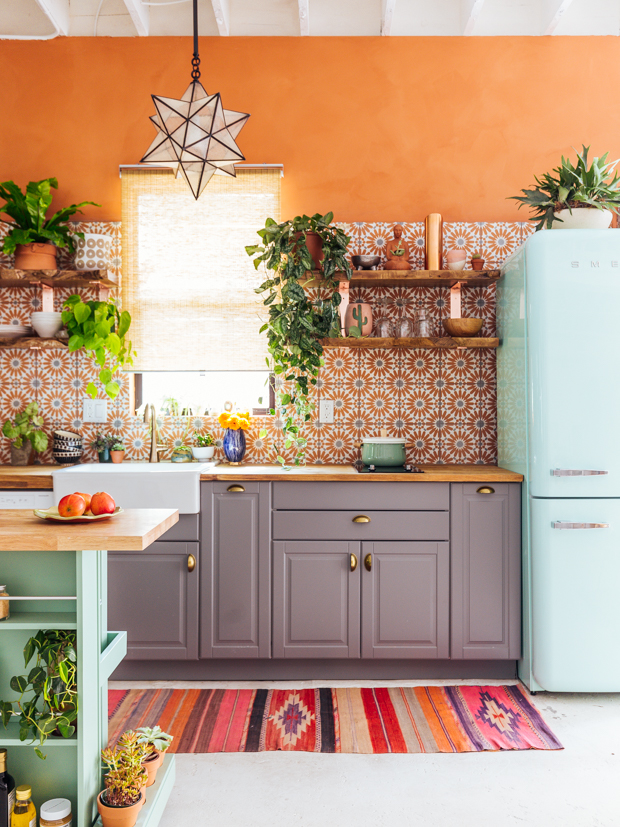 And, onto what is probably my favorite part of our new studio — our kitchen. We had no kitchen in our last studio and it's already changing the flow of my day so much to be able to cook. Even the simple change of having a sink in the space is huge. And, well, it came out so darned pretty that it makes me happy just looking at it. All the minty details, from the kitchen cart, to the Smeg refrigerator I find to be very refreshing. And the way they contrast with the rustic-vibe of the cement tile? Well…it's lit. We had Treeline Woodworks make and install floating shelves for us. They are live-edge reclaimed wood. They also made us the custom copper-plated brackets. The paint on the walls is a limewash from Portola Paints. The color is El Coyoté. I absolutely love how the paint color looks with the cement tile — it's giving me Southwest feels.
I'm not totally sure what the little circles at the foot of the kitchen cart were meant to hold, but here at Jungalow HQ, it's holding succulents and making me really happy.
Another come-up — a conference/dining table. No more folding tables for us! We have a real, live table for meetings and lunches and craft projects! It makes the perfect dining table for us because it expands as needed (there are extra leafs underneath the table).
For the employee desks, I went with these because they're modular. You can use them on either side and divvy them up in different ways. I like the flexibility. Also, it's nice to have individual desk storage — another thing we didn't have before. Everything was in plane sight before and things often started to look messy. Not anymore!
I also went with Steelecase office chairs. I've had a Steelcase office chair for almost ten years and I'm obsessed so I wanted to make sure my employees were comfy and have back support too so we got the same brand.
So far, we are thrilled in our new space. I know we'll be able to grow here. And now that the big up-front investment has been made, we can work here stress free for the duration of our 4-year lease.
Below I've broken things down by area to get the look.
Lounge
Sofa – Justina Blakeney at Living Spaces
Pillows, Vintage and Justina Blakeney X Loloi
Rug, Justina Blakeney X Loloi
Hanging Chair, Justina Blakeney X Selamat
Vintage Adrian Pearsal Lounge Chair
Lala coffee table by Justina Blakeney X Selamat
Wall art: vintage print of Paul Gauguin's Ta matete
Bathroom
Hamsa Hook (similar)
Wallpaper, Fez gold by Justina Blakeney X Hygge and West
Yala Mirror by Justina Blakeney for Hygge & West at Parigold
Space-Saving Vanity
Lamp: Cumulus Pendant by Justina Blakeney for Selamat
Dining Table from Wayfair
S side-chairs from All Modern
Kahelo Rug by Justina Blakeney X Loloi
Fela Tassel Chandelier by Justina Blakeney X Selamat
Uttan Folding Chair by Justina Blakeney X Selamat
Ceiling fan and lamp from Wayfair
Desk Area
Steelcase Desk Chairs
Cement Pendant Lamps
Desks
Rug (above, vintage, pictured here, Wayfair).
"Women" print by Kenesha Sneed
Emuna Mirror by Justina Blakeney for Selamat
Kitchen 
Paint: El Coyoté lime wash from Portola Paint
Smeg refrigerator
Moravian star pendant lamp
Space-Saving dishwasher
Sink (similar)
Faucet
Cement tile
Cabinet Hardware
Electric Cooktop (Similar)
Vintage Runner (similar, shown above)
Kitchen Cart
A huge thanks to Wayfair for sponsoring this post and working with me on this project.
Photos by Dabito for the Jungalow.