This post is created in partnership with Etsy


When it comes to decorating boho style, I know it can seem enigmatic. You walk into these spaces layered with textiles, brimming with plants, full of clashing colors–but somehow it all works together to create a space that actually feels relaxing and inspiring. How is that even possible? Well, today I'm thrilled to be working with one of my favorite sites on the web, Etsy, to share a bit about the 10 staples every boho home needs along with tips and ideas to furnish you with the know-how to decorate boho.
For this post, we've chosen ten pieces from Etsy to illustrate that you can work with just a few key items to get an amazing boho vibe in any room. It doesn't have to be hard, and it certainly doesn't have to cost a fortune. So, as I wrote in my book, The New Bohemians, "Kick off your shoes, light your incense; turn on Joni, Jimi, or Janis; and let's get all boho." ;)

Where to start?
Boho Staple #1: Large Graphic Textile. In the living room, we start by setting the tone with  a large African indigo textile hanging on the wall. Even though the textile is quite bold, the fact that the print is very graphic and has a limited color palette makes it work as a backdrop, without totally overpowering the situation. I love indigo textiles for this reason, they are versatile and look very dynamic without looking crazy. Using the textile on the wall gives the room immediate warmth, color and pattern (and hanging fabric on the wall is a very easy and affordable wall-covering option, especially for renters).


Boho Staple #2: A Patternful Rug (or two!). It always amazes me what a good rug can do to change up a space. Cover unsightly carpet, add coziness, and a nice dose of color and pattern. I love Turkish and Moroccan Kilim rugs and Etsy has no shortage of them! We found this one at House of Seance and they have a really rich selection of boho rugs. I also love layering multiple rugs. Do this and even the most minimal of spaces starts to have a boho bend.


Boho Staple #3: Floor Cushions. I love floor cushions for one simple reason. By putting pillows on the floor you are inviting yourself, your family and your guests to chill out on the floor — an all important invitation in any boho home! To create that relaxed 'boho den' vibe– floor cushions are key. Also they are so versatile. Add a tray on top and they double as a coffee table. Add a pug and they double as a doggie bed. I'm loving Moroccan Kilim floor cushions and especially the one featured from Thread Tooth, but bean bags and poufs can also do the trick!

And now into the bedroom! That vintage rattan side table (from one of my favorite Etsy shops, Gallivanting Girls) has been in every look so far. I love rattan. It works indoor and out and this side table feels so modern and boho and earthy all at the same time.  Use it as a nightstand, side table, or plant stand. And there's that African indigo again — used now as a bed spread! And hello to our pretty hanging planter, now suspended from the curtain rod and living in the window! The patternful kilim rug is reappearing here in the bedroom too!
And now for our next boho staple:

Boho Staple # 4: Patternful Pillows. My boho rule book suggests that any comfy surface (read: beds, sofas, sectionals) should be inundated with patternful pillows. I love pillows made of kantha fabric (search 'kantha' on Etsy to find hundreds of options). I am also mildly (make that wildy) obsessed with suzani embroidery and prints (again, search 'suzani' on Etsy). I love these motifs for beds and sofas because they pack a pattern punch but are generally soft to the touch. The above handmade bolster pillow by Talor Designs (pictured both here and in the living room setup) has a kind of suzani-meets-paisley pattern on it, and is really soft cotton. It also has bright orange tassels on the corners, and anything with pompoms or tassels kinda automatically become a boho staple for me.


Boho Staple # 5: Wall hanging Textile art is so versatile. We've used this weaving (by The River Haze on Etsy) in every room. It adds a graphic pop to the walls and also adds a nice textural element to the space. I also love using textile art above a bed because I think that heavy artwork over a bed can feel precarious. I come from earthquake country…but still, a nice, light piece of art like this above a bed just whispers, "Sweet dreams!"Side note — how pretty is that brass and wood table lamp, from TripleSevenHome!!? My Jungalow needs it!
In the dining room,  we've painted our old Mexican hutch green, and now it acts an anchor for the space. The indigo textile that was hanging on the wall in the living room is transformed into a billowy tablecloth. We've accessorized with a lot of black and white pieces so that the colors don't start to clash so much that they overwhelm.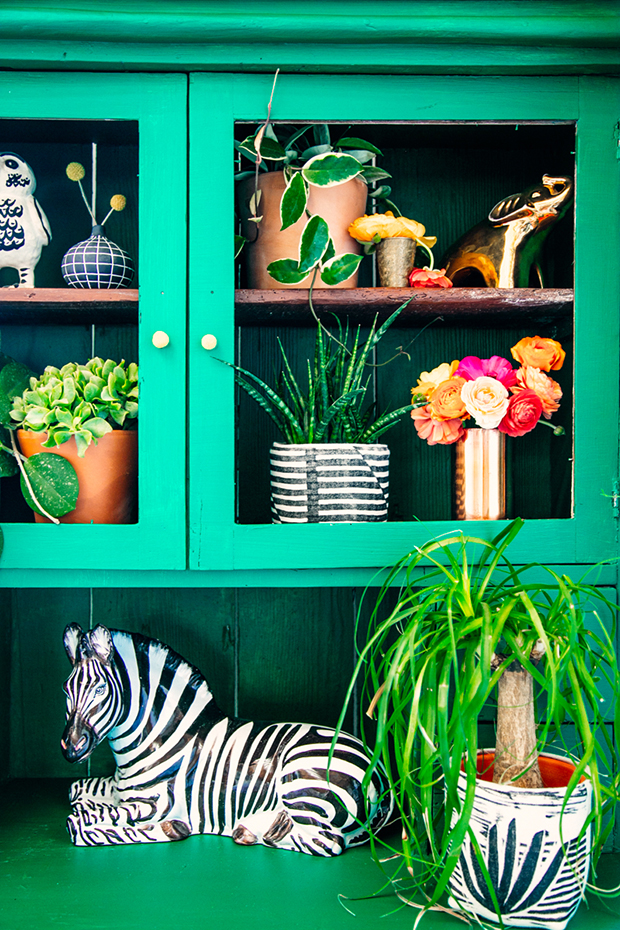 Boho Staple # 6: Unique Lantern or Pendant Lamp.  I picked this handmade pendant lamp (from Turnbuckle's Etsy shop) because its graphic design in black and white would go with any color palette. It is ceramic, handmade and feels like it has a story. These are the kind of pieces to use as focal points. Adding pendant lamps and lanterns is like adding jewelry to a room. Also, the lamp is red underneath, so looks different depending on if you're sitting under it, or looking at it from standing up. It feels simultaneously kinda mid-century and Moroccan. When picking pendant lamps, think about the light that it will give off, too. This lamp has holes pierced into it, and so when dimly lit, it emits little magical dancing lights on the walls.


Boho Staple #7: Planters! It should go without saying that if you fill your home with plants, you'll wanna fill your home with planters, too! Planters come in an infinite array of shapes, sizes and applications, so here are some pointers. First off, think about getting planters at varying heights. Elevate the plants with fun stands, like this copper pipe stand that also comes with the cylindrical cement planter by Etta and Odie.  Try covering pots in sweet handmade cozies, like these by Popbytes on Etsy. I also love simple terra-cotta planters. The terra-cotta helps the roots to breath and water evaporates easily from them making it hard to overwater. But don't just cover flat surfaces in plants! Hang plants from curtain rods, ceiling hooks and rafters! I adore these modern plant hangers by Sonadora in Love on Etsy. They instantly turn a hanging plant into art!


Boho Staple # 8: Plants! Well, I could go on about plants for days, but they truly do wonders to enliven a space, freshen the air, and it has been proven, by like, real scientists, that living with plants makes people healthier and happier. So what are you waiting for? Worried you won't be able to keep them alive? Try starting with a Mother-in-law's Tongue (Sansevieria trifasciata) (that's the sculptural looking plant in the middle, and they come in a ton of colors and varieties). These have to be the most low-maintenance plants ever, plus they do well in low light and need very little water to survive. Another great starter plant is the ZZ (Zamioculcas zamiifolia) plant. They store water in their fleshy leaves and can tolerate a ton of neglect.

Boho Staple # 9: Home Fragrance I think scent is one of the most important elements of home decor and it is often overlooked. The way a home smells is a vital part of the whole experience of being in a home and can leave a lasting impression on both inhabitants and visitors. One of my favorite home scents is the aroma of burning palo santo. Just get an incense bowl, like this copper one from Crafty Works Cornwall and let that sacred wood smolder.
Boho Staple # 10: Your own Creativity Bust out the crackers 'cuz I gotta lay a little bit of cheese on you — creativity is the real staple to creating a boho home. Once you have all the other nine staples, they key is playing around with all this stuff until you figure out the arrangement that makes your heart sing. Pick a color palette with one or two dominant colors and one or two accent colors and then play, experiment, and move stuff around. Fill your home with soulful objects. Buy vintage, buy handmade, make your own stuff. Don't feel like you have to follow conventional ideas about decorating. As we like to say around here, feel free, have fun and decorate wild. 


So to recap, here are the 10 staples:
Boho Staple #1: Large Graphic Textile.
Boho Staple #2: A Patternful Rug (or two!).
Boho Staple #3: Floor Cushions.
Boho Staple # 4: Patternful Pillows.
Boho Staple # 5: Wall hanging.
Boho Staple # 6: Unique Lantern/pendant lamp.
Boho Staple #7: Planters!
Boho Staple # 8: Plants!
Boho Staple # 9: Home Fragrance
Boho Staple # 10: Your own Creativity
Now go ahead. Go get your Etsy on.
Photography by Danae Horst for The Jungalow
This post was created in partnership with Etsy. All opinions are my own. Woot woot.